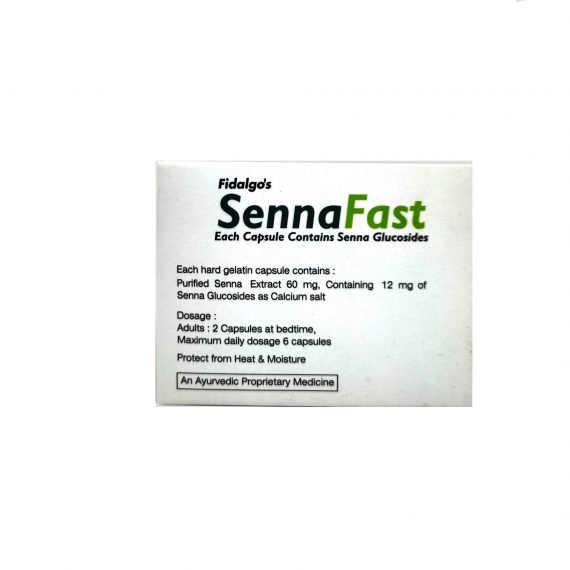 Senna Fast Capsule
Pack of 200 capsules
Goodness of Ayurveda
Maintains healthy metabolism
Description
If you are looking for an effective herbal remedy for cleansing your bowels or for that
matter, relieving constipation, then Fidalgo's Sennafast is probably the answer to your
prayers!
Senna is basically a flowering plant belonging to the legume family Fabaceae. It bears
yellow, white and pink flowers. This shrub has its origin in North Africa, the Middle East
and some parts of Asia. In Asia, it is mostly found in the temperate regions of India and
China. It is considered a powerful laxative due to the presence of compounds called
anthraquinones. The glycosides anthraquinone derivatives are known as senna
glyvcosides or sennocides named after its genus senna. Several forms of these
glycosides are referred to as A, B, C and D.
Almost all its parts possess medicinal value and have been used for thousands of years
in herbal medicine in India.
Fidalgo's Sennafast is also used for irritable bowel syndrome (IBS), hemorrhoids, and
weight loss.
Being a laxative, senna is effective in relieving constipation. It has been approved by the
US FDA as a non prescription drug to treat constipation. Senna stimulates the muscles
of the colon to push fecal matter through more quickly. Senna leaf acts on the intestinal
walls to cause contractions that lead to bowel movements. It softens stool by enabling
the colon to absorb water. It can effectively cure even the most severe cases of
constipation. The glycosides in it help transport electrolytes, causing bowel movements
within 6 to 12 hours of its intake.
Mode of action:-
This herb work as a laxative by smoothing the muscles so that digested food moves
through the intestines. It helps to enhance the stool volume and moves it out of the
colon. This step is done by chain of fatty acids that promote all things like digestion,
fermentation and converting the glycosides into a purgative agent.
Key Features:
• Ayurveda mentions Senna to be an excellent laxative. The same has been backed by
numerous scientific studies and even modern medicine makes extensive use of Senna
in their medicines.
• Senna brings about movements of the intestine and ensures complete Bowel
evacuation. This makes it very effective in constipation.
• By its laxative property very useful in management of constipation.
• Supports to regulate bowel movement & digestion.
• May help to facilitate removal of toxins.
• May help to maintain healthy metabolism & healthy digestive system.
Indications :- Useful in chronic constipation & hyperacidity.
Dosage :- Adult : two capsules at bedtime, maximum daily dose : 6 capsules.
Precaution :- It is advised to take senna for short terms. Keep away from children.
Side Effects :- Nil
Contradictions :- Nil
Key Ingredients
Each hard gelatin capsule contains:-
Sonamukhi 60 mg
(Purified Senna Extract 60 mg, containing 12 mg of Senna Glucosides as Calcium salt.)
How to Use