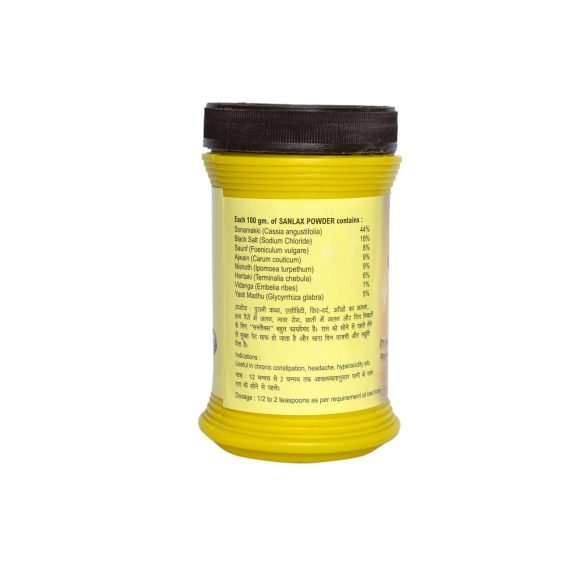 Sanlax Powder
Pack of 2 – 2 x 75 gm
Goodness of  Ayurveda
Useful in chronic constipation, headache
Description
Refreshes the morning
A Herbal Proprietary Medicine
Fidalgo's SANLAX POWDER is a powerful laxative , specially prepared for those who are suffering from the problem of constipation. It is a pure formulation which contains the various herbs that are used frequently in a Herbal system of health care.
Symptoms of constipation :-
Straining during a bowel movement
Being unable to have a bowel movement
A sense that a bowel movement was incomplete
A feeling of being blocked up
The stools themselves can be dry, hard, and pellet-like (but do not have to be in order for someone to be experiencing constipation)
Key Features:
By its laxative property very useful in management of constipation.
Supports to regulate bowel movement & digestion.
May help to facilitate removal of toxins.
May help to maintain healthy metabolism & healthy digestive system.
DIETARY ADVICE AND LIFESTYLE:-
1. Avoid diet like meat eggs, oils, fats cheese, refined starch products like bread cakes or food which require lot of energy for digestion in summer season
2. Avoid starch, substitute fruits, vegetables, lots of salads bean sprouts, whole grain flour, dried fruits like figs, raisins, prunes
3. Drink plenty of fluids and water, fresh fruit juices reduce intake of salt.
4. Moderate walking after meals.
5. Avoid sleeping immediately after food.
6. Take outdoor exercises like brisk walking, cycling swimming
Indications :- Useful in chronic constipation, headache & hyperacidity.
Dosage :- ½ to 2 teaspoons as per requirement, at bedtime or as directed by the physician.
Precaution :- High dose of Sanlax powder can cause diarrhoea. This product needs to be taken only under medical supervision, especially for kids, during pregnancy.
Side Effects :- Nil
Contradictions :- Nil
Presentation :- It is available in 75 gm pet jar.
Storage:- Store in a cool , dark and dry place , away from direct sunlight.
Key Ingredients
Sonamakki (Cassia angustifolia)
Black salt (Sodium chloride)
Saunf (Foeniculum vugare)
Ajwain (Carum copticum)
Nishoth (Ipomoea turpethum)
Himaja (Terminalia chebula)
Vidanga (Tinospora cordifolia)
Mulethi (Glycyrrhiza glabra)
How to Use