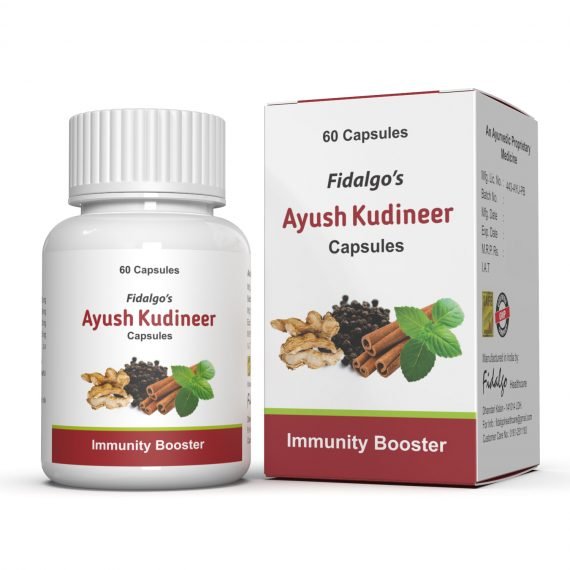 Ayush Kudineer
Pack of 60 CAPSULES
Builds strong defence mechanism.
Safety shield against diseases.
Description
At Fidalgo Healthcare, we have used the best variety of Tulsi, which is most effective in boosting immunity, when used with sonth, dalchini and Krishna maricha.
Given its high antioxidant level, AYUSH KUDINEER work as a natural immune-modulator, boosting anti-viral activities in the body, which helps to strengthen the immune system thereby keeping chances of infections very minimal. Not only can it help boost your immunity level, but also help you recover faster.
BENEFITS OF AYUSH KUDINEER CAPSULES :-
1. Boost one's immunity and also rejuvenate after a bout of illness.
2. It develops an inbuilt strong defence mechanism
3. It acts as a safety shield against diseases and complaints occuring due to seasonal change and other prevailing infections.
4. It helps body to recover early in case of any illness.
INDICATIONS :- It acts an Antioxidant, Immuno-modulatory, antiallergic, Anti-influenza and a powerful immunity booster.
DOSAGE :- One capsule twice a day with water ,milk or juice
Or as directed by the physician.
Key Ingredients
Each capsule contains dry herbs of :-
Tulsi (Ocimum sanctum)
Dalchini (Cinnamomum zeylanicum)
Sonth (Zingiber officinale)
Krishna Maricha (Piper nigrum)
How to Use